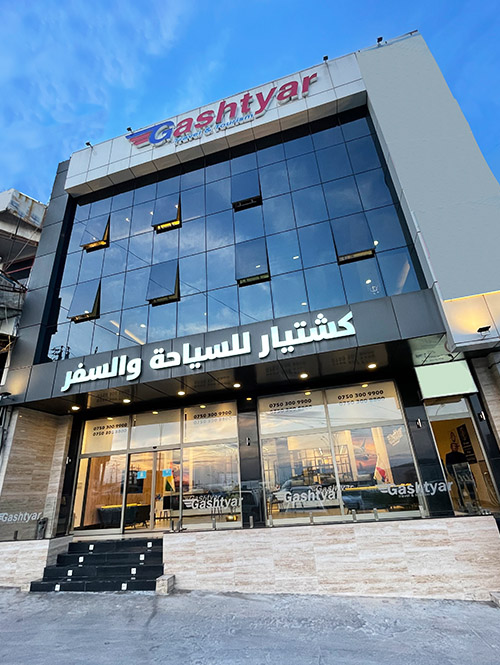 About
Gashtyar is a company specialized in the field of travel and tourism in the Kurdistan region of Iraq, and it provides all services in terms of issuing tickets, hotel bookings, health insurance, organizing touristic groups, corporate and personal travel management, and everything related to the travel and tourism industry. Gashtyar has a specialized and experienced staff in the field of travel and tourism and also provides its services in Erbil, Dohuk, Kirkuk and Mosul, as well as by providing its services to offices operating in the rest of the cities in Kurdistan and Iraq. Gashtyar Company is considered one of the oldest travel and tourism companies in the Kurdistan region, as it was established in August 2005 in Erbil and its journey in this area began by opening a branch in Dohuk as well, and then Kirkuk and Mosul.
Jun - 2005

Gashtyar Company has been established in Erbil.

Jun – 2006

We have taken the first step of expanding our services in Kurdistan region and opened a branch in Duhok.

Jun – 2013

Opened a second branch in Duhok. And have added another part to its services which were the tour packages to reach more travellers in the region.

Apr – 2017

Another Branch of Gashtyar company opened in Kirkuk to expand its business and to deliver the services to other cities in Iraq.

Jun – 2019

Gashtyar Company has worked in a partnership to operate charter flights between Erbil and Istanbul International airports with Onur Airlines.

Jan – 2020

We started to work in a partnership to operate charter flights of Tailwind airlines between Kurdistan region, Turkey and Europe.

Dec – 2020

Another branch office has started to deliver the services in Mosul, after the recovery of Mosul city.